Welcome to
the future of art
Join the Moment – invest now in 4ART
Dear interested party,
Thank you for your interest. We are happy to provide information on the business model and the related financial figures. In order to be able to send you these documents, we kindly ask you to read and accept the following disclaimer. We will process your request as quickly as possible.
Handle your artwork collection on your mobile phone
All relevant tasks related to art handling can now be done via the 4ARTapp on your mobile phone.
Increased efficiency and costs down by up to 80% – artists and art collectors, gallery owners, museums, logistics providers, and insurers – pretty much the whole art market ecosystem benefit from the innovation brought by 4ARTechnologies.
We are bringing the centuries-old art market into the digital era.
Data art market
Basic economic data for the global art market and the deduction of the revenue potential for the basic 4ARTapp use cases
| | |
| --- | --- |
| 67 Billion | Trade Volume (in USD) |
| 49 Million* | Ownership Changes |
| 266 Million | Possession Changes |
| 22 Billion | Service Expenditures (in USD) |
Figures for the year 2018 Source: UBS Art Basel Report 2019
*Incl. Private Sales according to Statista
Why the 4ARTapp is so revolutionary
Eliminates the problem of art fraud
Check each registered artwork's authenticity with a quick scan using the mobile app.
Transparency and privacy
Thanks to blockchain and smart contracts, buyers' and sellers' privacy is guaranteed, while provenance transparency is increased.
Managing Portfolios
Makes managing portfolios easier than ever. Users maintain all ownership certification, lending, restoration, transportation, and insurance coverage related to their artwork.
4ART virtual Gallery
Show your artworks to friends or potential buyers anywhere in the world.
Condition and restoration reporting
Makes condition and restoration reporting more efficient.
Change of ownership
Easily sell, lend, or borrow artwork with just one click.
and much more…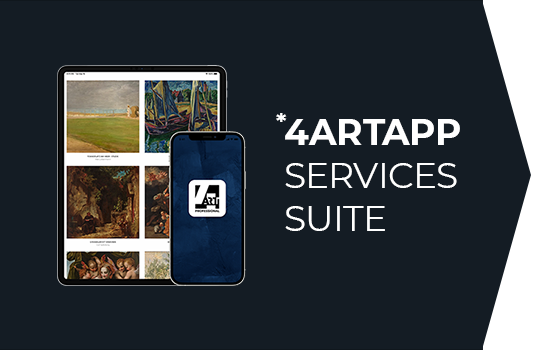 BIOMETRIC
ARTWORK PASSPORT
WORK
INDENTIFICATION
POSSESSION
RECORDS
ARTWORK
AUTHENTICATION
VIRTUAL REALITY
SHOWROOMS
ON-SPOT
CONDITION REPORT
ARTWORK
INSURANCE
TRANSPORT
TRACK & TRACE
ARTWORK
LOAN
TRANSFER
OF OWNERSHIP
DIGITAL
FINGERPRINT
DIGITAL
PROTOCOLS
Why You Should Invest In
4ARTechnologies Now
After a successful ICO in 2018, 4ARTechnologies went on and launched a successful product – the 4ARTapp.
Our technology is disrupting the art industry. We are changing the way art is handled between artists, museums, art collectors, experts, and other parties.
We cut costs down
for up to 80%
4ART's unique technology is significantly speeding up the art handling process while at the same time increasing security and trust.
By deploying our proprietary technology and working with top-level 4ART approved art experts, we are cutting down transaction costs for up to 80%.
4ARTapp is disrupting
the art industry
This means that now you can stop calling on expensive experts to assess an art object's authenticity, change the way cumbersome and expensive condition reporting is performed, and stop spending a lot of time and effort managing your art collection!
The 4ARTapp will help you spend less money managing your collection and give you more time for enjoying it instead! With the 4ARTapp you can now manage all your artworks with your mobile phone!
How you can pay for
4ARTapp services
There are two ways to pay for services within the 4ARTapp: with fiat money or with the 4ARTcoin that you can now buy on the Bittrex Global exchange.
If you buy services or unlock features with the 4ARTcoin instead of fiat, you will profit from a 20% discount! We want to reward our art customers for putting their trust in us, hence the attractive discount.
Become part of the 4ARTechnologies
success story and join the art revolution!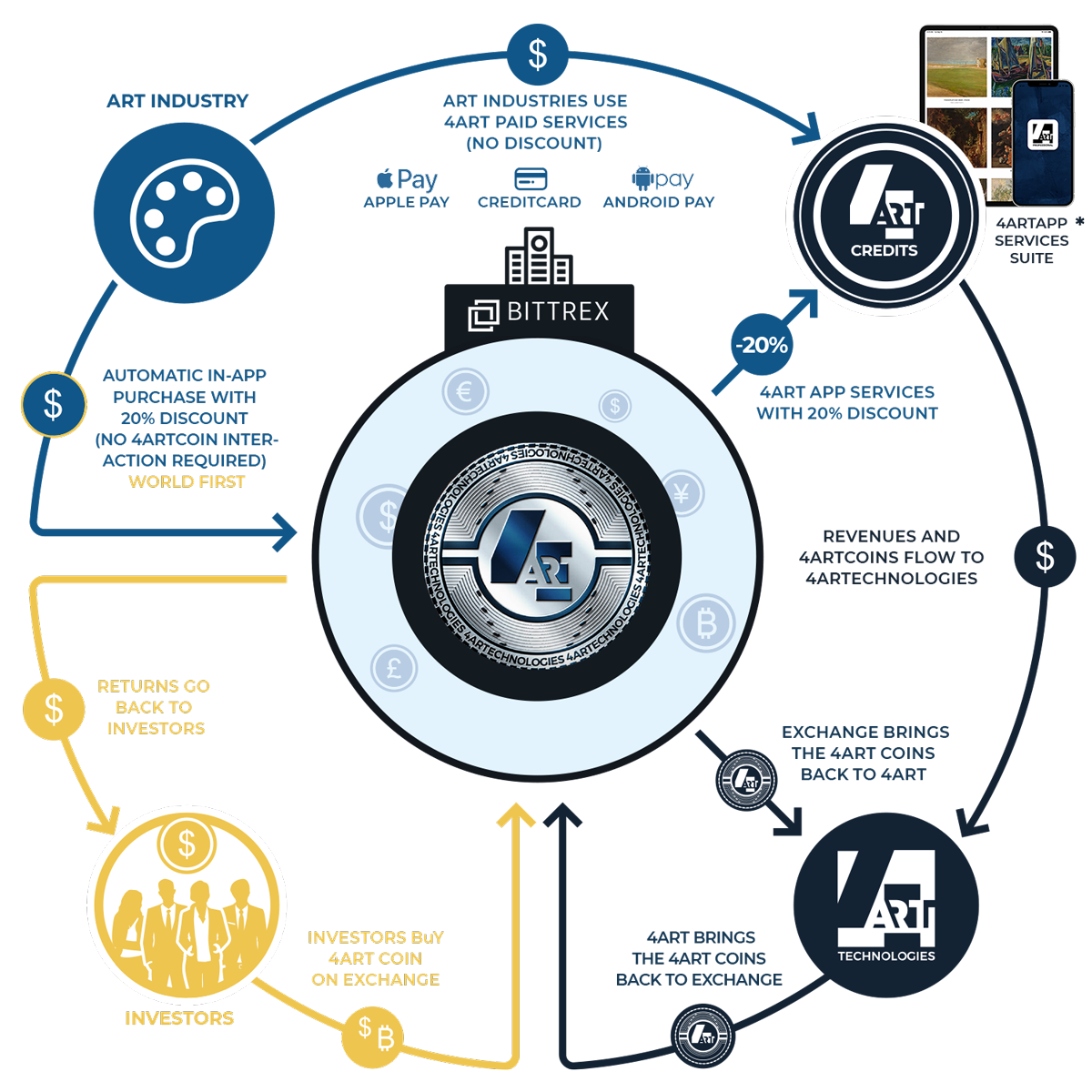 4ARTechnologies Business
Model Deep Dive
For those interested to know more about our business model and how we compare to competitors in the art market, we have prepared a downloadable booklet where we explain why our technology is so unique.